Your vision is to make Dubai the happiest city on Earth. How can technology help in this quest?
When our nation's fathers established the UAE, one of their main objectives was happiness. So we always make sure that our people's happiness is an objective in all of our projects. This is how we differentiate our Smart City project from the others. Technology is not our end goal, it is a means to enable us to be happier. Internet of things (IoT), big data and other technologies must make the lives of our people simple, impactful, seamless, safe and happy. The technology should help us reach this goal. This is our objective at Smart Dubai.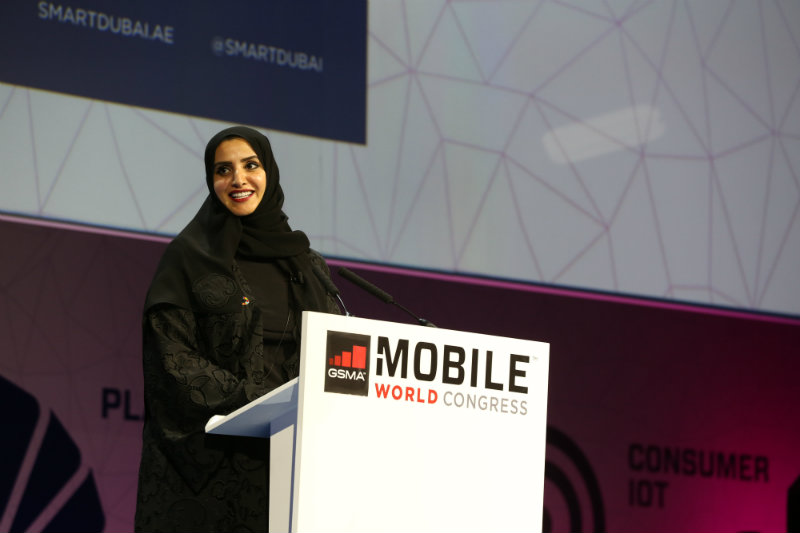 Can you tell us what the 'Happiness Meter' project is?
The 'Happiness Meter' project started in 2014 making Dubai the first city in the world to measure its visitors' and residents' happiness interactively. It is kind of a satisfaction survey.
We didn't want to hear from just a specific percentage of the population, we wanted to hear from everybody. In the first phase, we received almost 2 million votes across 500 touch points in the city. We have now launched the second phase and reached almost 6 million votes across almost 1,400 touch points and via applications and online services. People are communicating their experiences in the city and we are now focusing more on what people's needs are rather than defining happiness, as it differs from person to person.
"People have different needs. We need to understand and reflect them in our policies and systems. Then we make the changes to fulfil these needs." Dr. Aisha Bin Bishir, Director General, Smart Dubai.
What is the 'Happiness Agenda'?
The 'Happiness Agenda' will measure and impact people's happiness through an iterative framework to discover, change, educate and measure people's happiness. It will benefit from access to innovative technology and a broad partnership network for a unified approach utilizing the best tools at our disposal. We are using very smart technologies to measure happiness.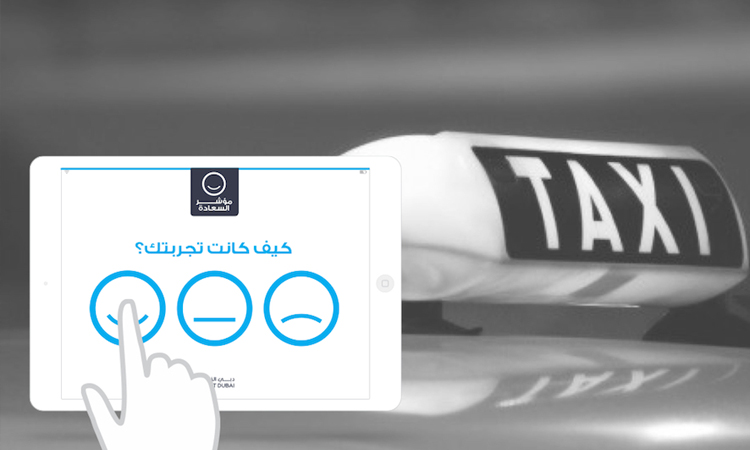 Can you brief us on the Smart Dubai project?
Smart Dubai builds on a legacy of innovative programs developed by the Dubai government to drive global competitiveness. We report directly to His Highness Sheikh Mohammed bin Rashid Al Maktoum because an initiative of this kind needs direct involvement from the decision maker of the city.
To achieve its strategic pillars, Smart Dubai aims to introduce strategic initiatives and develop partnerships to contribute to its Smart Economy, Smart Living, Smart Governance, Smart Environment, Smart People and Smart Mobility dimensions.
Can we talk about Smart Mobility, for example?
25% of Dubai's transportation will be autonomous by 2030, saving up to Dh22 billion a year by reducing the costs by 44%. It will also reduce accidents by 12%, and increase productivity by 13% which is achieved by reducing travel time by 396 million of hours annually.
Our strategic partner for this is the Roads & Transport Authority (RTA) who are working with European, American and Asian companies. Also, we started running autonomous cars in different districts in Dubai last year. Three weeks ago, we launched autonomous drones that will carry people from A to B in Dubai starting in July 2017.
What about Smart Environment?
We have started the smart grid solution and the smart meters across the city. By 2020, 1 million meters will be implemented across the city. We have already distributed more than 350,000. This will allow people to be more mindful of how they manage their utilities; they can see the data and how much they are consuming rather than just receiving a bill at the end of the month.
We are also supporting renewable energy. Almost 120 electronic vehicles charging stations have been deployed across the city. The government has already ordered 100 cars from Tesla who recently opened their Middle East headquarters in Dubai. Our target is that 25% of government cars are electric cars by 2020.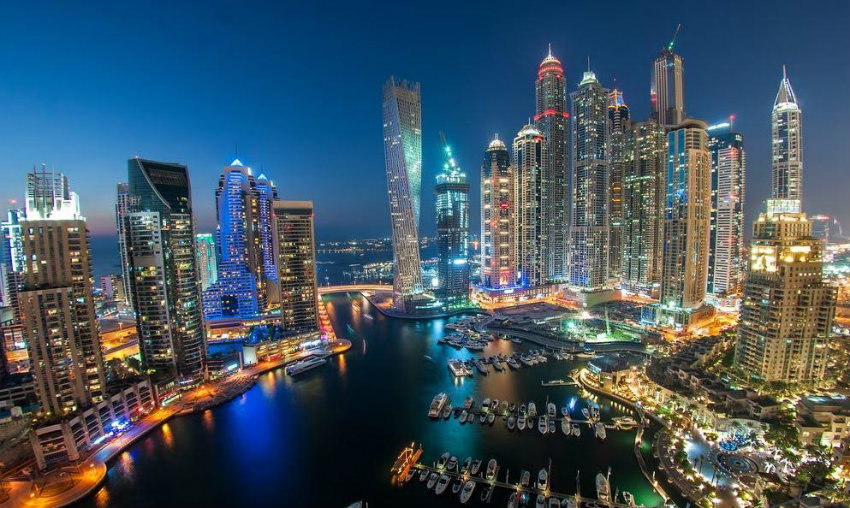 What do you think is the potential of Blockchain for smart cities?
In early 2016, we launched the Global Blockchain Council (GBC) and leaders in the sectors helped us to design our Blockchain Strategy, revealed in October of that year. The strategy is based on three themes — efficiency, creating new specialized sectors, and achieving global leadership. The strategy will improve efficiency by shifting 100 per cent of government transactions to Blockchain network by 2020 and encourage paperless transactions.
By 2020 we also expect people to enter the city without the use of any documents. The system will recognize them through Blockchain. Today we have many pilot projects around Blockchain: land registration, logistic solutions across cargo, business registration, health record registration, etc.
We believe that Blockchain and Artificial Intelligence (AI) are the two technologies that are leading disruption and the fourth industrial revolution. Both are already implemented in Dubai.
What is the Smart Dubai Index?
The Smart Dubai Index will be a universally applicable set of indicators which will highlight the achievements of Smart Dubai, and illuminate future opportunities, in particular looking ahead as the city prepares to welcome the 50 million visitors to Dubai by 2020. The Index Wheel was developed in collaboration with the International Telecommunications Union and the Dubai Statistic Centre to evaluate and measure how facilities and services in Dubai contribute to the vision of Smart Dubai.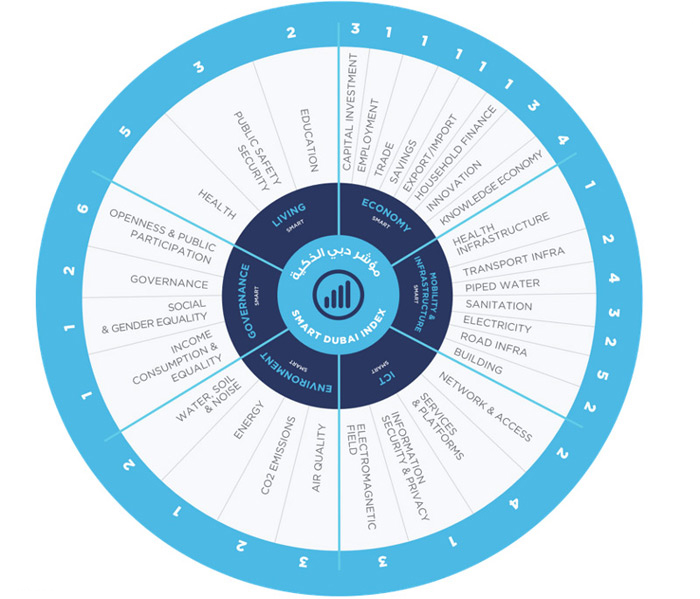 How will Expo 2020 showcase Dubai as a smart city?
The Smart Dubai project designed smart district guidelines. The government builds roads, hospitals, schools to the community. The private sector developers build homes and buildings. We have shared our guidelines with them and they must comply with the guidelines to develop a district. We already have some districts in Dubai fully comply with these guidelines.
Expo 2020 is one of these districts. We are working very closely with them to make sure that they utilize the full platform that we have built for the city and that they benefit from the data that we are sharing. We are also providing online solutions such as 'Dubai Now', a unified service platform.
We have had a smart government project running for the past 15 years. We have shown that a unified smart component can benefit the city efficiently. Today, for every 1 dirham that we spend in the smart government implementation, we can save 6 dirhams for the government