The Rochester Institute of Technology Dubai is a dedicated partner of the Smart Dubai initiative and the Corporate Happiness Program providing several programs to boost smart and happy learning in the city. They are partners for the first Corporate Happiness Program of its kind in the region. The program is designed to educate senior professionals on the key concepts of happiness and to give them the tools to bring their learnings back to the workplace.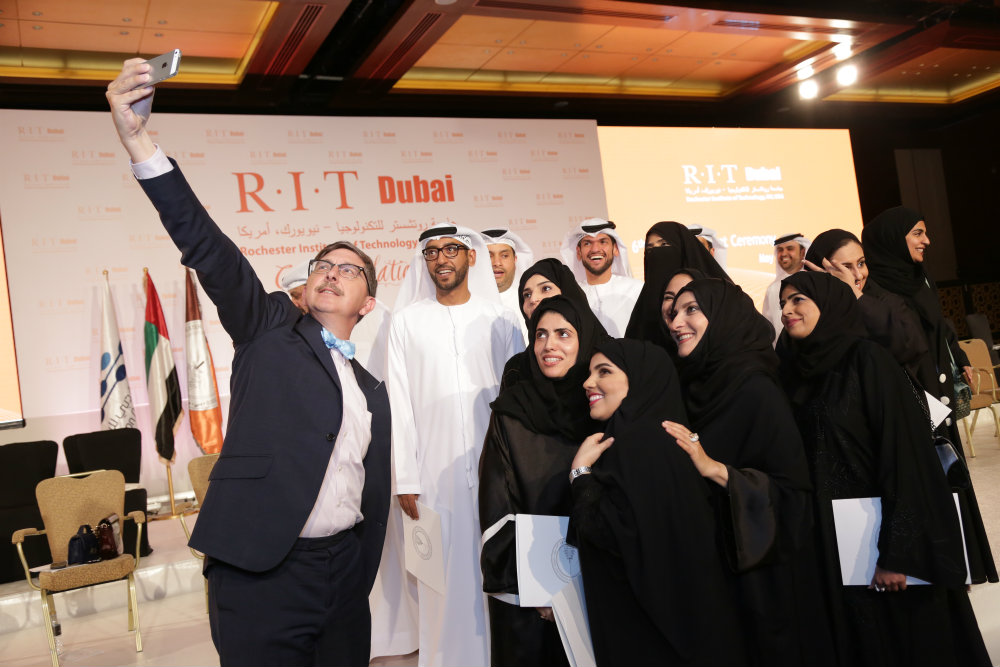 How quickly is the school growing?
We currently have 700 students and expect that number to reach 2,000 students in five years. We are building a big campus now which will be ready in 2019. It has three themes: sustainable campus, smart campus and connected campus.
How many students are studying Smart City topics, such as the Master of City Science, at RIT Dubai? How popular are these courses, and why?
We are a government-owned school and run programmes that help the government develop the human talent and capital needed for it to fulfill its aspirations. The moment Sheikh Mohammed wanted Dubai to become a smarter city, we wanted to be involved and partnered with Smart Dubai to see what we could do. We agreed we would create a Master's programme to help people understand what a smart city was, to identify the pillars, etc. This would enable them to become the champions of smart cities.
We developed the programme in Rochester because we wanted to offer an American degree. We obtained approval from New York and then from the Ministry here. In the first cohort we had 16 people, mainly from public entities or the government. In the second cohort, we have 23 people.
The program has become very popular and people fully appreciate the need for such course content. Students learn not only about digitization and smart cities but also about city science.
Currently, half of the people come from the private sector and half come from the public sector. We became a catalyst. When you are delivering a smart solution in a city, many entities have to come together to make this efficient and operational. The government has to think as one body and design smart solutions when they come together and the Master's Programme made that possible. We have created something that is fully integrated in the city.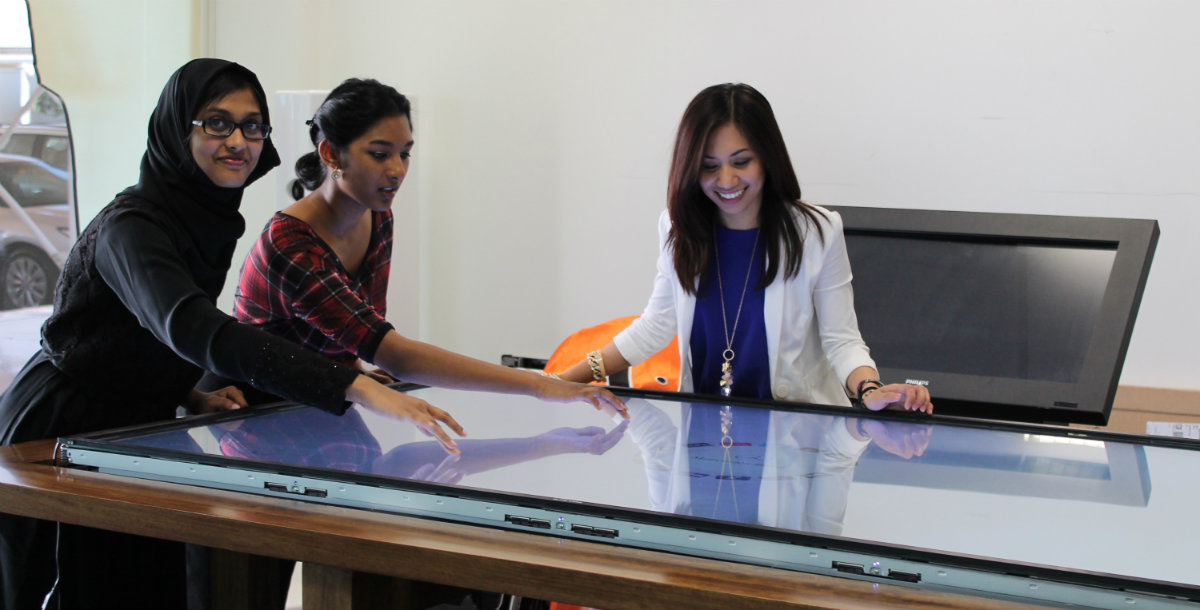 How closely do you work with Smart Dubai?
We work very closely with Smart Dubai— they have been involved from the outset.  We began asking students to work on real-life Smart Dubai projects as part of their degree. We wanted Smart Dubai to join us in planning our future and allowing our students to work on the challenges that the Smart City vision holds.  The students work on projects and on finding solutions which we present to the entities we have worked with. It is then a question of figuring out the next steps and how to make everything a reality.
What contribution do your corporate partners make to curricula at RIT? How do you think RIT is helping to supply trained professionals to the labour market?
With the second cohort, the private sector became interested in joining the programme. This was partly for relationship building but also for entities to use the programme in order to develop their own people in this area. We also get together with public entities to ask them what they need. We go back and design it for them and decide which projects we are ready to help on. If you ask the students from the first cohort what they liked best about the course, it was working as a group. We created an environment where the experiences of both the public and private sector came together. The private sector interest was for two reasons: they wanted to understand and develop their own people but also find out what the government was doing so that they could design products and services to meet the needs of the Dubai of the future.
What training do companies offer your students as part of their degrees?
We bring in keynote speakers from companies. They talk about hardware, IoT, the protocols that are used, security, the processes that you need to design if you want to find a solution strategically. They address user experience and how to include it in the design of smart solutions using big data.  With regards to sustainability, for example, we invite private partners to discuss the industry perspective. One company sponsored students from our first cohort to go to Rochester, New York, where they could find out about best practices at various cities in the world.
What plans do you have for expanding the RIT campus in Dubai Silicon Oasis and increasing your intake of students?
Currently, 70% of our students come from the UAE. We have 65 nationalities, 70% of them from expat families and local people living in the UAE and 30% are from overseas. Our plan is to make this a 50-50 split within the next five years. We have designed programmes based on the needs of the UAE and Dubai and are now adding programmes in mass communications, especially using digital technology. We are adding a Masters Course in Sustainability and another in Management. We currently have a professional diploma in Corporate Happiness. We wanted the concept of happy cities to be more than superficial. If you want happy customers, you need happy corporations. We can now train champions of happiness and public entities in the science of happiness—how it is measured, how it can be engaged, etc.
What are the main aims of the program; who are some of the main organisations represented and how much interest are you seeing?
Currently, Smart Dubai is the key player, sponsoring half of the students while the Dubai Silicon Oasis sponsor the other half. We now have 25 entities involved in the first cohort on the professional diploma course, in which all of the public entities in Dubai are represented. We explain what corporate happiness is and the strategy of Smart Dubai when it comes to Dubai as a happy city. They understand that if they want to promote happiness in their corporations, it has to align with the city's vision. Then we examine the actual science of happiness, the details, the strategies, the processes, the planning and so on.
"If you want happy customers, you need happy corporations." Dr Yousef Al Assaf, President, RIT Dubai
Why do you think Dubai is pursuing the Happiness Agenda?
Happiness impacts on so many things. If you want to promote innovation in a city, happiness can be the vehicle you use to achieve this. If people are more engaged as employees, they will be happier and more committed. If you focus on your customer experience and how to make them happy, this can help your business become successful.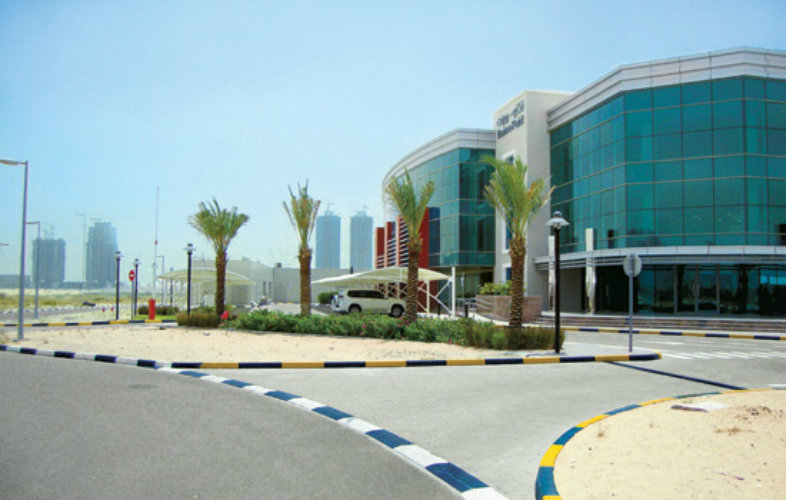 What do you think other cities can learn from this?
Dubai is a city of the future. There is a great deal of investment in this idea, financial and otherwise, with the city leading the way with the concept of the Happiness Agenda.  Going forward, Dubai could well become a thought leader in happiness and other cities will want to learn from our example.  Dubai has to learn from other cities, but other cities can also learn from how we approach the big-picture—not only our strategy but also how we  implement things. They can learn from any mistakes that we make.
What contribution do you think your Corporate Happiness Program and smart city activities can make to the technical, educational and social development of Dubai?
Firstly, people do not always understand the city's new agendas. We can put these concepts into a language people understand—helping comprehend what we are talking about and what the leaders of Dubai are talking about.  Secondly, we develop human talent and create champions who have the responsibility to both disseminate and establish the plans to achieve these agendas. Thirdly, at our center, we have the network and the experts to become innovative in this area.
What is it that most motivates you about your current role as President at RIT and what most concerns you?
I would like to contribute to the potential of Dubai and the UAE and it would be very satisfying to play a small part in achieving the big story of Dubai becoming a futuristic city. It is something I cherish and something I would like to continue doing. On the other hand, being a university with a different kind of vision, the speed of developments concerns me.  If I have a plan that I would like to integrate with companies and public entities and achieve an objective within a certain timeframe, I am always worried about how fast we are moving and if what we are doing is right