In 2015, Japanese car giant Toyota began selling in Europe and California its Mirai car, a futuristic vehicle which uses a hydrogen fuel-cell for power and which emits only water vapor from the tail pipe as a by-product.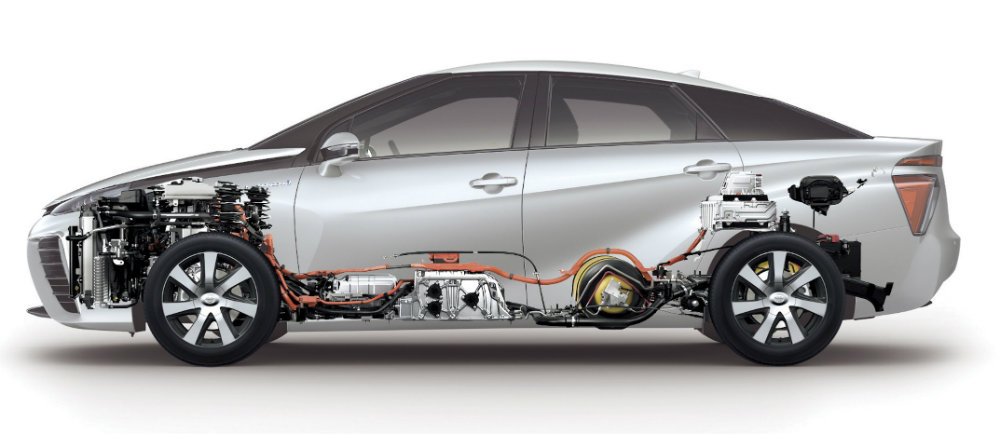 The launch of Mirai forms part of Toyota's long-term strategy of eliminating nearly all petrol and diesel engines from its output by 2050. It is the latest result of a long-standing commitment to sustainability that saw the company launch the Prius, the first mass-produced hybrid, back in 1997.
In Toyota's latest world first, the Mirai, the engine combines hydrogen with oxygen to produce electricity. As the technology does not rely on a battery, it avoids the range anxiety problems faced by today's generation of EVs; in effect, the hydrogen itself serves as an energy storage device.
Furthermore, the time taken to refuel with hydrogen is only three to five minutes, comparable with conventional cars, whereas many EVs still require overnight charging.
"With the Mirai, drivers have autonomy of around 500 kilometers, which is still a challenge for electric vehicles, and you can refuel very quickly," says Jacques Pieraerts, the Vice President of Communication at Toyota Motor Europe.
"Toyota is a global player with the financial capability to invest in researching different types of energy."
Jacques Pieraerts, VP Communication, External and Environmental Affairs, Toyota Motor Europe
While Toyota believes that there will be a place in the market for EVs, especially for short trips and for urban car-sharing schemes, it thinks fuel-cell vehicles will be more appropriate for longer journeys. By 2020, the company aims to be selling 30,000 Mirais a year, up from 2,000 in 2016.
One challenge that hydrogen fuel-cell vehicles faces in common with EVs is the still limited scope of public infrastructure for alternative fuels and recharging. To respond to this challenge, Toyota has put together a broad coalition of partners from the public and private sectors, who all share a common interest in building what the company calls 'the hydrogen society.'
In Europe, Toyota launched the Mirai in the German city of Hamburg, which is already home to four hydrogen refueling stations and which produces hydrogen using wind power. In California, the state government is investing $200 million to build a network of over 100 stations.
Toyota itself has also released thousands of its fuel-cell patents free of charge to speed up adoption of the technology.
"With global population growth as fast as it is and with increasing demands for mobility and energy, we cannot continue with business as usual," Pieraerts says. "It is time for revolution, not evolution."